Bridesmaids' gifts are by no means required. However, your bridesmaids have likely already spent countless hours assisting in preparations for your bridal shower, bachelorette party, and wedding. Except there's not going to be a party about them at the end of it all. Not to mention, this is your squad we're talking about.
But unfortunately, weddings are expensive. Sticking to a tight budget is extremely difficult in the wedding world, and it's little things like gifts for your girls that are easy to forget about. While you're not trying to drop thousands in this stage of the process, you're also not trying to give them just another thing to toss in a drawer. That's why we've pulled together 5 bridesmaids gifts that won't break the bank and they're guaranteed to love.
Earrings
Our main goal with a bridesmaids' gift is usability. With simple earrings (or any other piece of jewelry), you're gifting them something usable for the wedding day and beyond. Try and go with earrings that fit your color palette, but pay attention to the individual as well. Not every bridesmaid needs the exact same gift, so you can tailor their jewelry to them. You want the gift to get some mileage in too, so if one of your girls has a habit of wearing gold, get her gold. Maybe just post earrings for the girls who keep their look subtle.
Glossier Lip Set
It's everything she'll need: a balm, a gloss, and lipstick. Glossier's Balm Dotcom is a "universal salve" that works wonders. Dab it on your lips, cuticles, elbows, and more as a moisturizer. Or use as a highlighter for a little extra gleam. The set also includes their signature lip gloss that every girl either owns or dreams of. And to finish off the set, their sheer and highly buildable lipstick comes in 6 different versatile shades. You'll be able to customize the set for each girl from a stunning variety of colors and flavors for just $35. Or if you're putting together a couple of small gifts for each bridesmaid, order a lip set or two and split it up amongst your gals.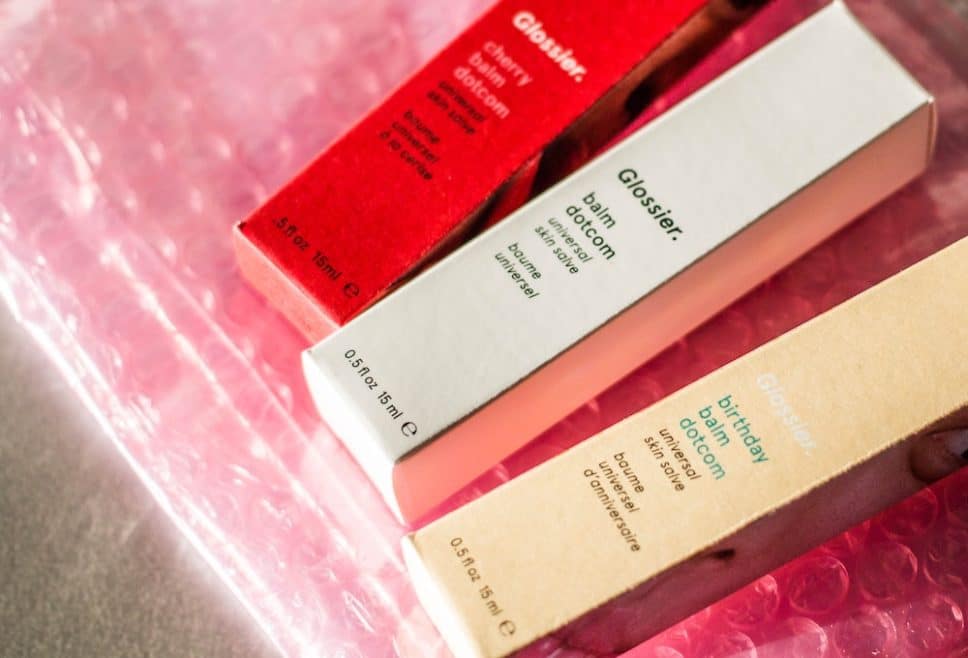 Jade Roller Set
Bridesmaids' gifts are the opportunity to get them something indulgent, something they might not have committed to spending the money on previously. And Jade rollers & gua sha tools absolutely fall under this category. A relaxing morning or evening ritual, perfect for depuffing eyes, and a natural pressure release. Jade rollers are the ultimate way to feel pampered. You're giving your girls the gift of starting the day with a little face massage (lovely) and giving themselves a refreshed glow the morning of the wedding. The jade stays cold against your skin to reduce inflammation and improve circulation. So relaxing and only $8.99 for the set.
Silk Robe
This one's just classic and extra Insta-worthy. Silk robes are the perfect piece for getting ready at the wedding and every day afterward. Lightweight and comfortable, they're exactly what your girls will want to throw on for hair and makeup. This selection we love on Etsy comes in 7 different gorgeous patterns, so you can choose the perfect tone for each bridesmaid. Not only will they go home with a lovely robe they're bound to wear again, but your crew will look exactly the kind of chic you want in behind-the-scenes wedding photos.
Wedding on a Budget
Like we said, sticking to a tight wedding budget is no small feat. But it's not impossible. With a little extra research and some DIY efforts, you can save money without cutting quality. Doing your research can find you package deals at local wedding venues, discounts a caterer might not have advertised, or budget-friendly photography services. Remember: the day is about you and your partner. So prioritize your budget by what's most important to you. But don't leave out your girl crew. Getting married in Philadelphia? We're experts in all things weddings in Philly. Hit us up for a custom wedding photography package, suited to your taste and budget.